I love this time of year... I love the pumpkins, colorful leaves and cooling down of the temperature. I love bats, spiders, the moon and the color orange. I think this is why I am drawn to many of the Halloween designs / patterns. Do you remember
I stitched
up
"Autumn Witch"?
(the design is by Maja over at
'The Snowflower Diaries
') I fell in love with the pumpkin riding on the back of the witch's broom. ... And do you remember me telling you there was going to be an ornament finishing class at my
LQS
?! Well, it was wonderful! I learned so much and had a blast with my girlfriends. And here she is... my little witch and her sweet little pumpkin made into the cutest little ornament.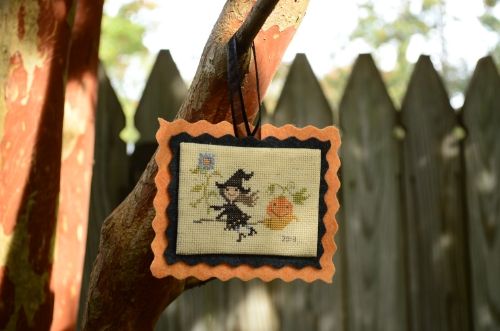 I am so pleased with how she / it turned out.It makes me want to stitch up tons of 'smalls' so I can make lots of ornaments.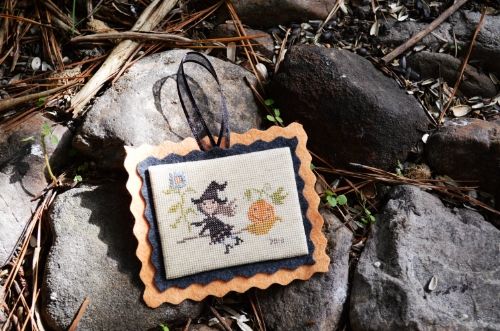 ~~ here is a group shot... Aren't they great!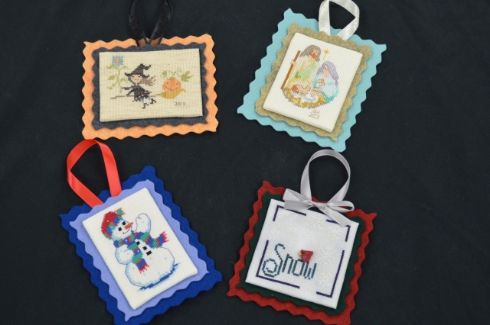 There is another
finishing class
coming up to make your piece into a cube...so I need to get stitching. I think once I finish my
'Mary's Sampler'
, the cube would make a great finish for it. ~~~~~~~~~~~~~~~~~~~~~~~~~~~~~~~~~~~~~~~~~~~~~~~~~~~~~~~~
Two photos from this week that I love... My children in the pumpkin patch hunting for pumpkins.
( my son, daughter and my daughter's boyfriend)
And the geese crossing the road as we head out for the evening...