I finished up three things last week and when I stepped back to look at them all, I realized they all have to do with witches. teehee hee
The first finish is my favorite! It is 'Ghoul Tidings', the pattern is by
Plum Street Samplers
and is in the Halloween issue of Just Cross Stitch.
Stitched on 36ct linen ~Edinboro Flax, stitching one thread over two.
I love everything about this pattern from the witch to the cats to the pumpkins... right down to the colors.
I think the only thing I changed was the acorn color. It called for an orange and I changed it to a brown. I'm sorry I can't tell you which color... I just grabbed one out of my floss box and didn't pay attention to was it was.
My second witch is really a witch house. I've been stitching (embroidery) on HocusPocusVille for a few years now and I finally finished up block #9. Which leaves me 3 more to go!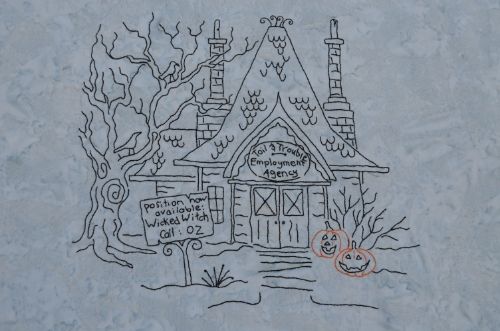 One day I'll post a picture of the cute witch houses all together. They are going to make an amazing quilt one day.
She is stitched on some mystery aida that I had in my stash.
I'm taking a finishing ornament class at
my local quilt shop
in October (which I am super excited about) so I needed to stitch up something small.
See... I told you I was in the 'Fall' mood...lots of Fall/Autumn stitching going on!