We're just back from camping on the 'Twin Rivers' in NC... High Country Bus Festival. We had a wonderful time but sadly we had to leave early because the river rose 4-5 ft over night from rain.
And was raising as we packed to leave. The road back to the 'primitive' part of the campground was flooded... you can see where the road is now part of the river in the picture above. Over 30 buses are trapped back in that part of the campground for 4 to 5 days until the water goes down. Our FullMoon Bus friends are being taken very good care of. Some people and the sheriff have brought in food, water, firewood and cigarettes (for those who do smoke) over the mountain by foot. The band who was supposed to play Saturday night for us is trapped back there too. So they also have music. :) Everyone is safe and just riding this storm out. What great camping memories!! In stitching news I finished block #8 of Santa's Village...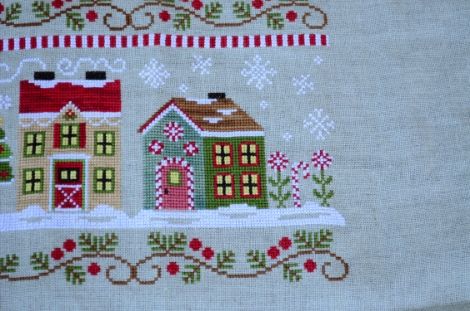 And here is progress on Part 2 of 'Song of the Seasons'...
Sorry, no time to iron for a pretty picture. teehee hee