Busy busy busy... that's what I've been.
Here is a photo of 'Gingerbread Emporium". I haven't stitched the french knots yet (which will really be colonial knots because I think they're easier to make) teehee hee.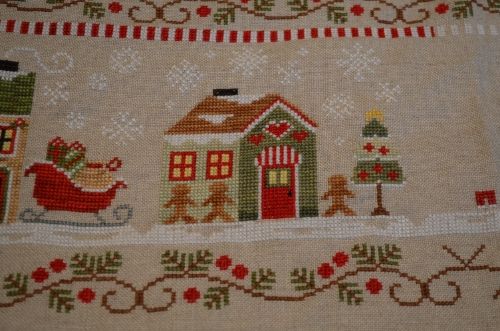 I'm trying to take a little break from my
Santa's Village
so I can stitch up some Christmas gifts but it keeps calling out to me to work on it.
I started
Plum Street Sampler's
new mystery SAL, Mary's Sampler.
You can find the free patterns over on
Paulette's blog
.
There are two versions... I'm stitching both.
I am stitching them on 40ct Natural linen.
My Thanksgiving table runner has grow a little bit. I'm not using a pattern, just 'winging it' and I have found that I over think things too much. Although I am in love with it so far... I can only work on it for an hour or two at a time then I have to walk away.
My mind wants to exploded because I'm thinking and rethinking about placement, colors, value ,patterns, and then I found these cute chipmunks and mushrooms in my stash...
and they had to go in my runner.
I watch my chipmunk
, Alvin almost everyday and I am very Thankful for him!
Fingers crossed I can finish my table runner by November! Or at least the top of it.