I hope everyone had a wonderful Christmas.I did! Christmas evening I snuggled into bed and finished stitching my Kawaii Winter Wonderland countdown.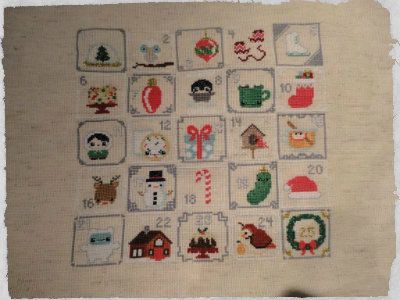 I want to show some of my favorite days /blocks ~ Day 4 ~ the mittens...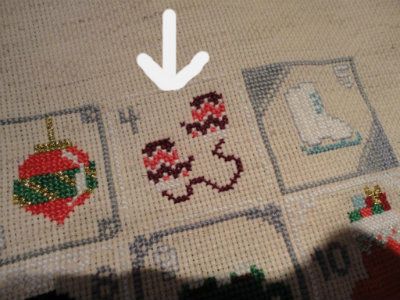 Day 14 ~ the birdhouse and Cardinal...
Day 16 ~ Rudolph...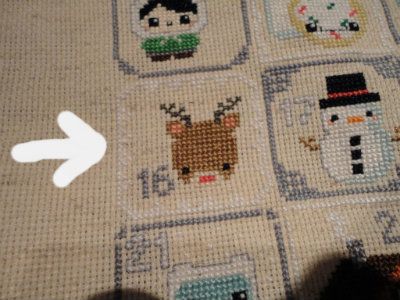 Day 19, 24 and 25 ~ the pickle, partridge / pear and the Christmas wreath...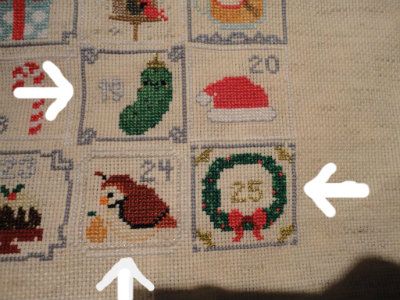 I'm not sure how I am going to finish this cute Christmas sampler yet. A frame? Make a pillow out of it? Make a wall hanging? I'm just not sure yet. ~~~~~~~~~~~~~~~~~~~~~~~~~~~~~ I wanted to also share a picture of my sweet baby chihuahuas curled up enjoying my new stove/heater. (one of my Christmas gifts)
For Christmas I also got the DVD set of Downton Abbey Season 1 and 2.....so I'll be sitting by my new stove/heater , stitching and watching Downton Abbey today. Happy Stitching everyone!!