I bought this kit 2 or 3 years ago. I bought it because my son who is animal crazy,
loves Australian animals and wants to visit or live in Australia one day. (because of their cool animals)
This is block 3 of a whole Aussie animal Christmas quilt and the pattern is by
McKenna Ryan.
So, I started it years ago thinking I would give it to my son for Christmas that year.
I had all the pieces fused and cut out ready to add to the background but
it never got done,
until now! I finally pulled it back out and was determined to finish it up.
My son's birthday is in February so now it will be a birthday gift for this year.
I quilted it while watching one of my favorite musicals, 'The Fiddler on the Roof'. And as my son came in to see the progress! Yes, even though it's a gift for him... he knows about it and has watched the progression of the little quilt. I love that he gets excited about it's progress (and the animals on it) and can see the work that his mom has put into it.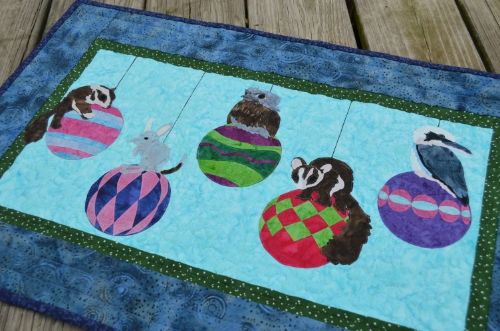 We both think it turned out super cute!
The animals from left to right : a
Sugar Glider,
a
Bilby
, a
Tawny Frogmouth
(which is my fav of the 4), another Sugar Glider and a
Kookaburra.