Yeah... another finish! I've been working on this 'Belle & Boo' pattern from the 'Cross Stitcher' magazine (issue 257) since December 2012.
I stitched it for my sister in law's birthday which isn't until July... so I have time to find a frame for it. My sister in law has a huge rabbit, loves leaves and sort of looks like Belle.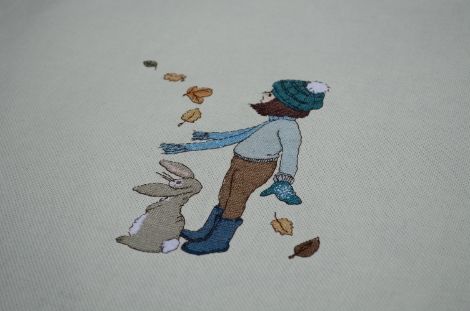 I used an 18 count aida cloth which is a little higher count then the sample is stitched on, but I wanted mine to be a little smaller so I can easily find a frame for it.
I love how it turned out, but I'm super excited it's done because there are a lot of other things I want to stitch. Being on a two week break from school and having a Mother's Day stitching retreat at my local
quilt shop
helped me get 'Pieces of Autumn' finished. Now to go finish up month 6 of
Santa's Village
.