Bluebird Cabin stitched...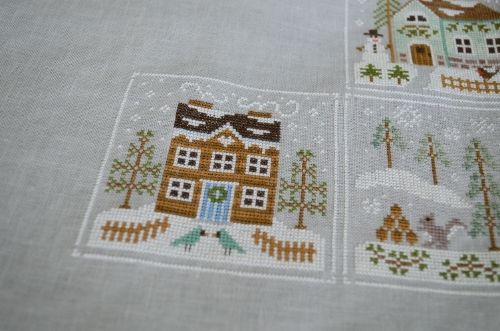 I love the two toned door and the house in this one... and of course the Bluebirds.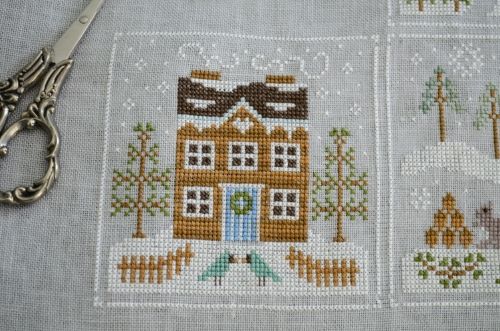 I wasn't going to use the buttons but the owl button for this block is so cute that I am going to have to use him. (not pictured)
~~~~~~~~~~~
I finished stitching 'Shamrock Bunny' also.
Pattern by Homespun Elegance
Stitched on 30ct Weeks linen which I tea dyed a bit.
I may stitch these buttons at the bottom but haven't decided yet. I'll be making it into a little pillow with my Heather Ross shamrock fabric on the back.
Most of my 'smalls' are Halloween or Christmas themed so I decided I needed another Spring one. This will make only my second Spring themed one. I do love it. The bunny's tail is a bunch of colonial knots so it sticks up a bit.
~~~~~~~~~~~~~~~~~~~~~
A little peek of what I've been working on lately...
I'm loving the colors in it so much! I can't give the details as of yet. It's going to be a gift and I don't want to give too much away.
~~~~~~~~~~~~~~~~~~~~~~~
In my backyard