I spent most of the weekend with my parents,
enjoying their company, visiting family, stitching in front of the fire
and getting my taxes done.
My dad always has a fire going in the Winter and I love it.
I am still working on #3 of Frosty Forest.
I'm not using the buttons so I replaced this month button which was a white dove to a stitched robin.
Once I finish stitching the whole block I will post closer photos.
~~~~~
While I was down visiting my parents I got to stop by and see my Nana.
I hadn't seen her in almost a year. ( She is whom I get my young looking genes from. lol)
I actually haven't been to my Nana's house in years, probably 10 years. When I am down that way it is usually for Easter, Thanksgiving or Christmas and the family will get together at my Aunt's house or my cousin's house. I remembered there being an old sampler in her back bedroom so I took the opportunity to check it out and photograph it.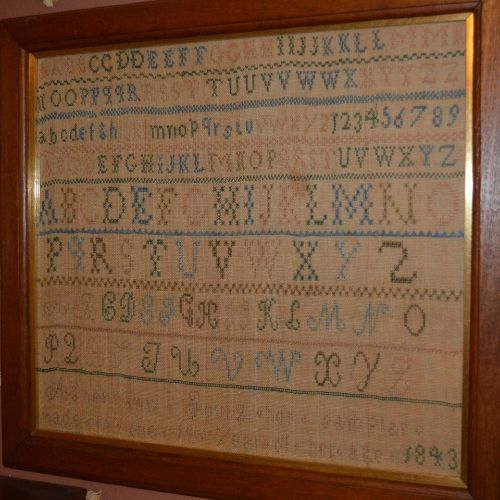 Here it is, from 1843. It was hard to photograph without a glare on the glass so I had to get it at an angle.
~~~~~
The Sweetest Dragon Yarn Bowl
My daughter has started to crochet so for her birthday this year I had a yarn bowl made for her.
I found a lady on Etsy who makes yarn bowls and asked her if she could make one with
'Toothless'
from
'How To Train Your Dragon'
.
She said she would love to try.
(My daughter loves dragons and fell in love with Toothless when she saw that movie.)
The bowl arrive last week and it turned out so adorable...
His body wraps around the bowl. The lady who made the yarn bowl is Toni McPhee. Her Etsy shop is
CleverClay
and I think she did an amazing job!
My daughter loves him too!
The yarn in the bowl now is my poor attempt at knitting. lol