My goal was to finish my 'Grateful For' table runner by the beginning of November and I did it! And I love it! Here is a quick but picture heavy post of my finished table runner....
Machine stitching the binding while watching 'The Sound of Music'...
Outside on a gorgeous day (Oct 31st) hand stitching the binding on..
And here it is finished by November 1st.
I didn't have a plan for the pattern and no measuring was done while I was making it so I was shocked when I laid it on the table and it fit perfectly.
Some close ups..
~~~~~~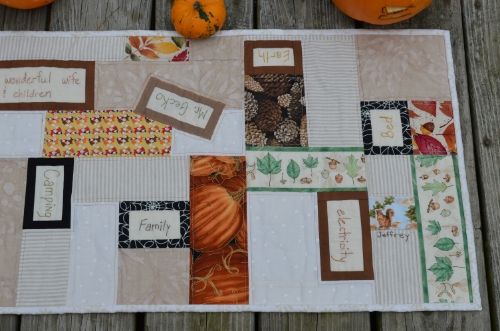 ~~~~~~
I added Alvin, the chipmunk that lives in our yard.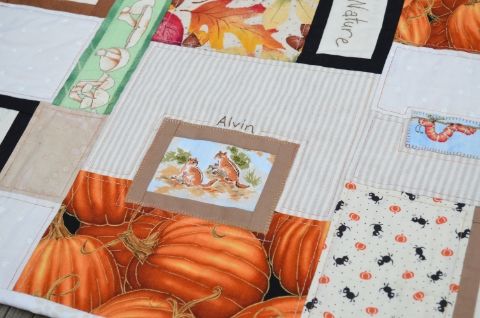 ~~~~~~
And my son has named all the squirrels in our yard Jeffrey .. so I added them too.
My label on the cutest pumpkin fabric..surrounded by bees.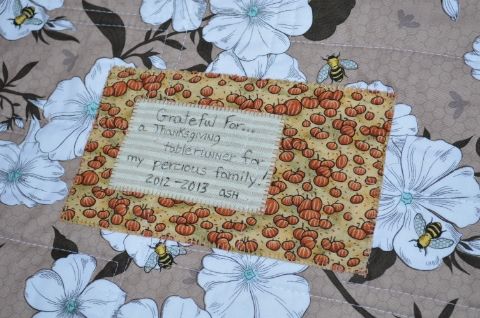 If you don't know the story behind my runner... last year I had my little family list a few things that they were grateful or thankful for. I wrote them on muslin and hand embroidered them. I was hoping to make them into a table runner last year for Thanksgiving but they sat in my sewing bag for a year. So this year I was determined to get my table runner done by the 1st of November.
Done!
And I'm in love with it!
I may even keep it on the table year round.