Guess who we got to see this weekend? .... my daughter! I went and grabbed her up from her dorm room , took her to meet the rest of our family and went out to lunch. I'm a happy momma! While I was in her dorm room it occurred to me that I never posted a picture of the bunting I made her. So I snapped a few photos...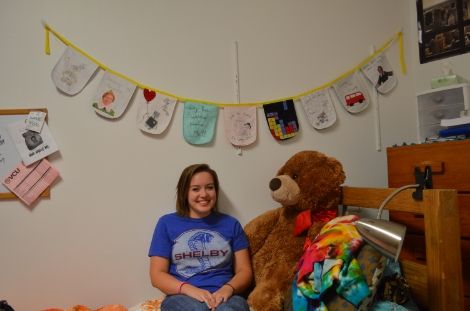 She and I like to quote little movie sayings all the time to each other. I embroidered a few and turned them into a bunting for her dorm room so she would have a little feeling of 'home' there. Here are a few of them up close.. Dexter from "Dexter's Laboratory"... she used to push her baby brother's belly button all the time and say "What does this button do?".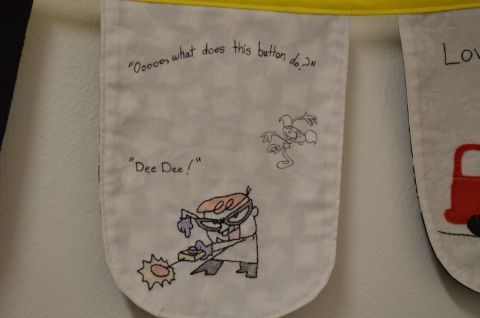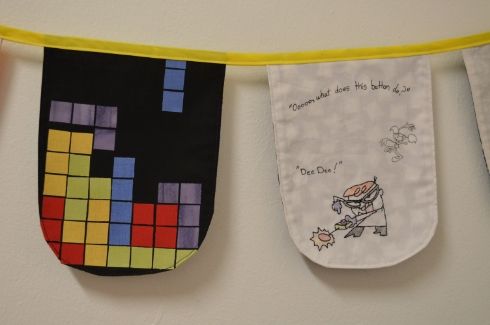 She can actually play tetris on one computer while doing homework at the same time on another computer.... my gaming girl!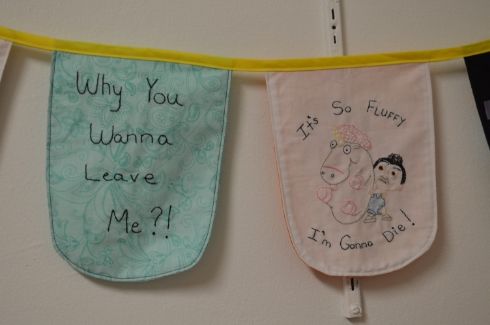 "Why you want to leave me??" is from 'My Big Fat Greek Wedding'. I would say this to her anytime she was going out the door. LOL We say many quotes from this movie, it's one of our favorites. And everyone knows Agnes from 'Despicable Me'... another one of our favorites.
We quote 'Elf' a lot too and have to watch it at least 3 times during the Christmas season. And 'Wall-E' of course! Eventually I'd like to make another bunting to go below that one because there are a few more movie quotes I need to add. ~~~ ~~~~~~ Here is my wonderful and beautiful family together..