I get ideas to create, everywhere. I love looking at other blogs. I love pinterest! Pinterest is like 'window shopping'. I made three things from pinterest just last week and one this week. Here are some things we've(my family) created in the last week... I saw this idea in hearts last month on a blog. So I got the idea to hang shamrocks in March.
My son & I cut them out last week and I stitched them together with the sewing machine. ~~~ The next thing I made, I got from
pinterest
. My sister-in-laws birthday is this month. This adorable (and easy peasy) family tree...
Another project I've started is with my daughter. I 'watch' a
"Flickr"
group called
"Moly_X: Moleskine Sketchbook Exchange"
. We got a Japanese accordion moleskine sketchbook and started our own exchange. We picked a theme: Creatures. She started with the first drawing.....
I didn't get to see it until she was done, then I had to add to the picture with my own drawing/painting and so on.
I added on to her picture by drawing and painting a fly on the tail of her creature and then the toad ( I love toads) on the mushroom. I use watercolors for my paints. I can't wait to see what she adds to my picture next.~~~~ I saw a 'Forest Quilt Along' on Flickr this week and joined in. I love animals and the first block for the QAL just sucked me in....
The Flickr group can be found
here
. It's a paper piecing QAL, so if you love animals and want to improve your paper piecing skills.... join up... it's also free! ~~~~ And one last thing I need to share is what my husband created last week. He husband actually creates a lot every week, but it is always in the form of metal. He works in metal!! I've been begging him to make my son a hanger for his skateboards.I expected a metal hanger... but got this...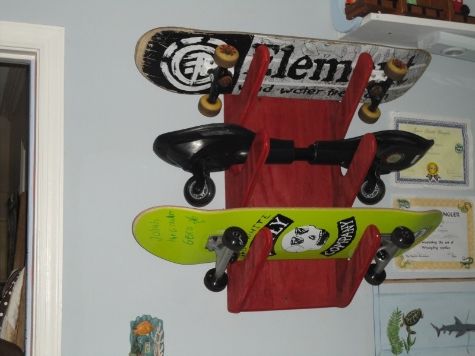 A wooden one,I was very impressed!! I love it and it looks so good. ~~~