So I found this new hobby. It's called
Project Life
and it is right up my alley. It really isn't new and the whole idea behind it really isn't new to me either, it is just doing something I already did/do but in a different way. Project Life is like scrape-booking, but with less stress and stuff. I never got into scrape-booking because it was too expensive and took up too much time. Cutting out, taping, gluing, stickering, etc... If I was going to cut something, I wanted it to be fabric. :o) I am a 'document' girl though. I document everything! You'd probably be shocked. I have 3 blogs. I have a pregnancy book for each of my children, documenting every movement, thoughts I had, weight I gained, what each person thought they'd be, every dream I had while pregnant..... I have a baby book for each child filled to the max. The pages are coming out of their baby books they are so full. I have a school book for each child, documenting every grade, a school photo the first day of school (It's pretty cool to look at my senior's book, now that she is on her last year), every teacher they've had, their friends in that grade, and on and on and on. I have a camping journal, I have documented every campout we've gone on.... how many hours it took to get there and back, how much money it cost, who we camped with, what we ate, what the weather was like, and on and on and on. I am a bit obsessed really. I am also a crazy picture taking girl..... so when I saw this Project Life, I was so excited. Somewhere I could document my whole like.... every week, in one binder. I love this idea. So I am going to try it. Lord, help my husband!!
Stitching this week : I'm working on a bird house....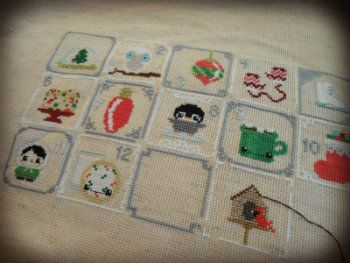 This is Kawii Winter Wonderland in progress.