I'm going to show a few of the Holiday gifts I've made
because I am pretty sure these people don't read my blog.
First is the Tardis potholder for my son's teacher.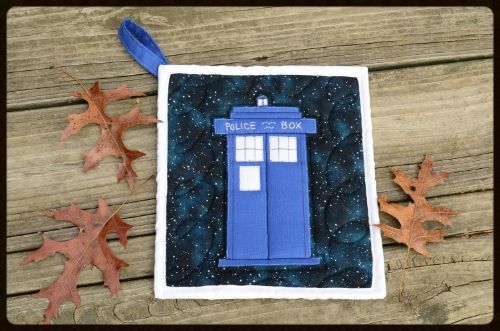 He says she is a huge Doctor Who fan. She even has a Tardis sitting on her desk at school.
I've never seen Doctor Who (this may shock some) so I had to google what a Tardis looked like.
Next is a little 'Peace' ornament I made for my best friend. The pattern is a free one over on
'Krissy-Cross's'
blog.
I know my best friend doesn't read my blog... I am actually pretty sure she doesn't know I have a blog (this may shock some too). LOL But we are more like 'camping buddies'. She doesn't sew and when we get together we talk about where and when we're camping next and what the menu will be.
I am about 99% sure my daughter doesn't read my blog... so here is a peak at her chemistry / math love pillowcase...
She loves chemistry and math and is studying it in school. It will go with the
'Keep Calm and Graduate On'
quilt I made her. She keeps the quilt on her bed at college. The body of the pillowcase is a math print called "Back to School" by Timeless Treasures.
I had my husband google chemistry things and draw them up for me. I then took my handy dandy light box and traced the images onto what fabric, then embroidered them in black.
The two chemistry glassware have colored fabric fused on them, then I machine stitched them down.
The molecule is Caffeine... she loves coffee.
Lastly... is my son's Horned Owl...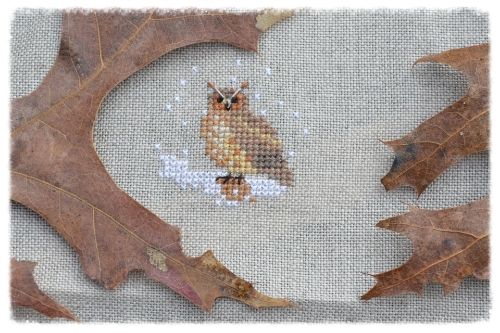 His favorite!
I will be making this sweet owl into an ornament for him.
The pattern came from the booklet
'Woodland Birdies #3' by Victoria Sampler.
So there are a few of the handmade goodies I've been working on. I'm still working on some and others I can't show yet. teehee hee