There are some not so good things happening in life right now like... my car is broke, my phone is broke, my daughter left for college, etc.. so I am cheering myself up with 'Thinking Positive'. What is wonderful right now, what I love and what makes me smile. It really does help! Right now in life I am loving...
#1
The mums on my front porch. They remind me of Fall and I love the Fall. I love the colors and smells, the temperature and holidays.
#2
I love my 'Song of the Seasons' sampler. I finished stitching it last night and I think it turned out beautiful.
And have you seen all the cute 'Pumpkin Season' patterns that have been coming out?!
#3
Twitter ~ Yes, I am loving Twitter and here is why~ I have always documented my children's life mostly through pictures. I have 4 full, very thick journals for my daughter. Starting from the day I found out I was pregnant. She left for college one week and 5 days ago so I can't be there to see where she's going or what she is doing anymore.
But
, she and I are on Twitter and she has been tweeting me pictures and keeping me updated on things she's doing. I even got a 'First Day of School' photo! .... to add to the other 15 (she went to preschool for 2 years).
#4
I am still loving 'Project Life'. ~ And loving my new toys for my Project Life...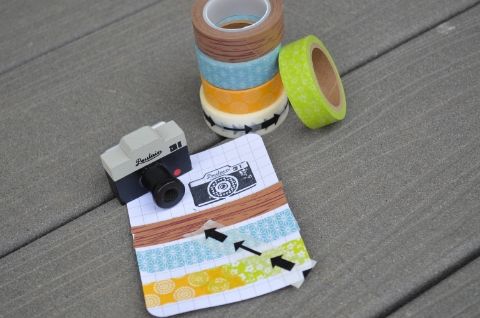 Washi tape and a camera stamp!!
#5
My camera... I love looking through the lens and seeing the world!
#6
My new patio furniture. 'Long story short', I quit school (not going to get into why), sold my text books on-line, took the money and bought myself two comfy patio chairs. I love being outside on the back porch, stitching and watching my birds and chipmunks.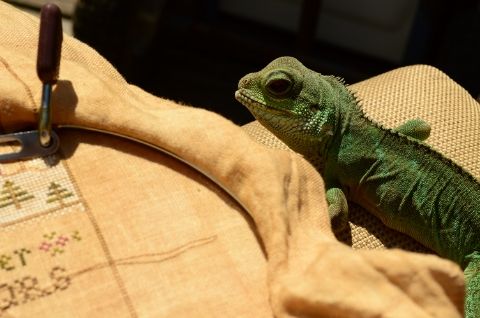 Here is a photo of our sweet Water Dragon sunning on my comfy chair with me while I stitch.
#7
I have been watching the old shows and they make me smile. From Hulu, I've been watching 'Mary Tyler Moore', 'Dick Van Dyke' and 'WKRP'.
These are just a few things in my life right now making me smile. :)